Plan Your Stay
Symposium VENUE
Edsa Shangri-La Hotel 
1 Garden Way
Ortigas Centre
Mandaluyong City 1650 Philippines
Tel: +63 2 633 8888
HOTEL RESERVATIONS
Blocks of guest rooms with discounted rates have been reserved by ADB at the following hotels near the symposium venue. To make a reservation, complete the reservation form and send it to the relevant email addresses by the noted dates.
Hotel Name

Room Type

Rate per night

Cut-off date

Reservation Form

Send reservation form to:

Deluxe Room

PHP 4,000 nett (approx  USD 85)

6 January 2017

Deluxe Room

PHP 5,000 nett (approx USD 106)

6 January 2017

Junior Suite

PHP 4,800 nett (approx USD 102)

30 January 2017

One-bedroom Suite

PHP 5,300 nett (approx USD 112)
Transportation to manila
Ninoy Aquino International Airport (NAIA), also known as Manila International Airport, is one of the two international airports serving the Metro Manila Area and is the main international gateway to the Philippines. It is about 7 kilometers south of the country's capital Manila and 12 kilometers southwest of ADB Headquarters.
From the airport, you may proceed to your hotel either by taxi or through the shuttle service of your chosen hotel (subject to prior reservation). If you opt to take public transport, GrabCar is recommended (approx. USD 7-15 one way). GrabCar has a booking booth outside the airport's arrival area.
For further assistance, you may visit the ADB desk located just outside the arrivals area. Please note that there is no ADB desk in Terminal 2.
Airport Maps: NAIA Terminal 1 Map / NAIA Terminal 2 Map/ NAIA Terminal 3 Map
Transportation within metro manila
Mobile app-based transportation service providers such as Uber and Grab are reliable means for getting around Metro Manila. The following taxi companies also have a reputation for employing good drivers and properly maintained vehicles:
Basic Taxi: 961-7777 / 352-7777 / 362-2742 / 0942-8701223 / 0915-9668689 / 0999-9987541
Dollar Taxi: 921-2383/ 441-0718/ 897-2478 / 0922-393-0932
MGE Taxi: 363-6096 / 366-6214 / 364-8260
R & E Taxi: 362-9089
It is best to take Metro Manila's railway system during off-peak hours since weekday rush hours (06:00-09:00 and 17:00-21:00) bring huge crowds and long queues of commuters into the train stations. The cost of train tickets ranges from PHP 15-30 (USD 0.31-0.62).
The LRT Line 1 runs from Roosevelt, Quezon City, in the north to Baclaran, Pasay City, in the south, interchanging with the Metro Rail Transit (MRT) at the corner of Epifanio de los Santos Avenue (EDSA) and Taft Avenue in Pasay City. The LRT Line 2 runs from Recto, City of Manila, in the west to Santolan, Pasig City, in the east, interchanging with the MRT in Araneta Center-Cubao, Quezon City.
The MRT traverses a south–north route along EDSA. ADB Headquarters has direct access to the MRT Ortigas Station.
passports & visas
Nationals from countries listed below who are traveling to the Philippines for business and tourism purposes are allowed to enter the Philippines without visas for a stay not exceeding thirty (30) days, provided they hold valid tickets for their return journey to port of origin or next port of destination and their passports valid for a period of at least six (6) months beyond the contemplated period of stay.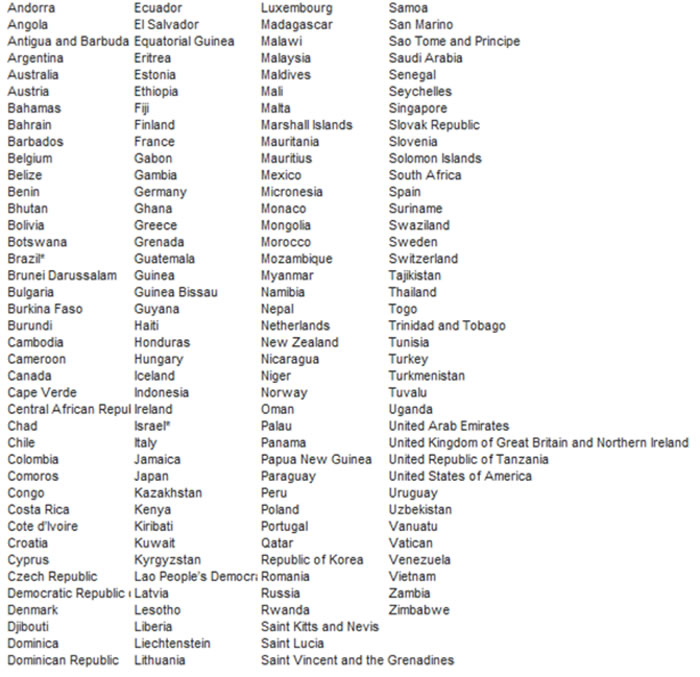 The following are allowed to enter the Philippines without a visa for a stay not exceeding fourteen (14) days: Holders of Hong Kong Special Administrative (SAR) passports, and holders of Macau Special Administrative Region (SAR) passports.
The following are allowed to enter the Philippines without a visa for a stay not exceeding seven (7) days: Holders of Macau-Portuguese passports, and holders of Hong Kong British passports
For those requiring a visa, application for a temporary visitor's visa must be made in person at the Philippine Embassy or Consulate that has jurisdiction over their place of residence. The following are the minimum requirements for applying for a temporary visitor's visa: passport/travel document valid for at least six (6) months beyond the intended period of stay in the Philippines; duly accomplished visa application forms; passport photos (2 pieces); proof of bona fide status as tourist or businessman; confirmed tickets for return or onward journey to the next port of destination; and payment of visa fees.
For more information, please visit the Philippine Department of Foreign Affairs website at http://www.dfa.gov.ph.
accessibility
If you have a disability and require assistance, please contact IAIA HQ (info@iaia.org | +1.701.297.7908) by 1 February 2017 to discuss your specific needs.
travel insurance
IAIA, the organizing committee, and the venue will not be responsible for medical expenses, accidents, losses or other unexpected damage to property belonging to conference participants, either during or as a result of the conference and during all tours and events. Participants are strongly advised to arrange their own insurance for health and accident, lost luggage, and trip cancellation.
tourism information
Mandaluyong City lies at the heart of Metropolitan Manila, the National Capital Region of the Republic of the Philippines. The city is one of the most progressive economic centers in the country, wherein you will find world-class accommodations, shopping, and entertainment, including the internationally renowned golf course Wack Wack Golf & Country Club, as well as a vibrant nightlife. It also has easy access to and from its neighboring cities—San Juan to the north, Quezon City to the northeast, Pasig City to the east, Makati City to the south and southwest, and the City of Manila to the west and northwest (source: http://www.mandaluyong.gov.ph).
Brochures about the Philippines may be secured at the airport's Tourist Information counters (immediately after the Arrival Immigration Hall at NAIA Terminal 1 and in the Arrival Lobby at NAIA Terminal 3) and at the Concierge Desk (in the Arrival Lobby at NAIA Terminal 2).