Plan Your Stay
SYMPOSIUM VENUE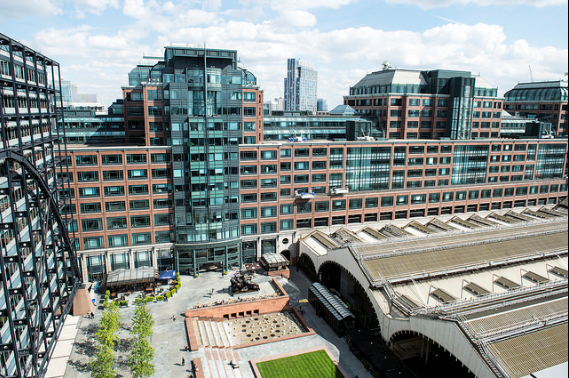 European Bank for Reconstruction and Development (EBRD)
The EBRD headquarters building is located in the heart of London's financial district.
Address: One Exchange Square, London EC2A 2JN, United Kingdom
Download Venue Accessibility Map
ACCOMMODATIONS
Delegates are welcome to make their own accommodation arrangements. Several suggested area hotels are listed below.
196 Bishopsgate: 196 Bishopsgate, London EC2M 4NR (NOTE: This hotel is offering a discounted rate of £190+Vat on Studios and One Bedroom Apartments for symposium delegates. To book, email groupreservations@townhallhotel.com with the code "1812INTERN". The number of discounted rooms is limited and first-come, first-served.)
Point A London Liverpool Street Hotel: 13-15 Folgate Street, London E1 6BX
Travelodge London Central Liverpool Street: 1 Harrow Place, London, E1 7DB
Ace Hotel Shoreditch: 100 Shoreditch High Street, London E1 6JQ
Travelodge London Central City Road: 1-23 City Road, London, EC1Y 1AG
PASSPORTS AND VISAS
All attendees from outside the UK are responsible for making sure they have the correct documentation to enter the country. Before you travel, please consult the UK Border Agency's (UKBA) guide at http://www.ukba.homeoffice.gov.uk/customs-travel/.
Delegates coming to participate in the symposium, who are citizens of a non-EEA country, will be considered as Business Visitors and will require a Standard Visitor visa. Delegates should visit the UKBA website to check whether they need to obtain a visa before traveling to the UK. If you are planning for a spouse or family member to accompany you on the trip to the UK for tourism purposes, they should apply for a General Visitor visa. If family members are traveling for any other reasons, they should check the visa requirements page at https://www.gov.uk/browse/visas-immigration/tourist-short-stay-visas and select the correct visa type.
We strongly advise delegates to explore visa requirements as early as possible, and should a visa be required, to apply as soon as possible because the process can take up to 30 working days. The following link will tell you if a visa is needed: https://www.gov.uk/check-uk-visa. Delegates from certain countries can also apply for an electronic visa waiver (EVW).
TRANSPORTATION TO LONDON
By Air
There are 6 Airports that are close to London: Heathrow, Gatwick, City Airport, Luton, Stansted, and Southend.
By Train
To get from the Airport to Central London, it is advisable to take the train.  Each airport has its own "express" connection service to central London. The 'Heathrow Express' train offers a direct route to Paddington Station in just 15 minutes, with the service running every 30 minutes. Fast trains connect the airport to Victoria Train Station. The 'Gatwick Express' arrives at the London Victoria Station in just 30 minutes. The journey from Stansted to Central London will take around 47 minutes to Liverpool Street Station on the Stansted Express train. From Luton Airport passengers can take a 21-minute train ride to London St Pancras Train Station. It takes very little time to travel from the City airport into London; most places in central London can be reached in less than 30 minutes.
 
By Taxi
London's famous black taxis stop at the ranks outside each Heathrow terminal. Drivers are fully licensed and have passed the Knowledge of London examination. All taxis operating at Heathrow have wheelchair access. You can pre-book the following taxis with "meet and greet" services, or you can hire a private car at the Airport terminal.
https://licensedlondontaxi.co.uk/
https://www.dialacab.co.uk/
https://www.addisonlee.com/
TRANSPORTATION WITHIN LONDON
The map for Rail and Tube services and more information on planning your journey can be found at www.tfl.gov.uk. You can buy paper tickets for single and return journeys on Tube, DLR, London Overground, TfL Rail and National Rail services at:
Ticket machines at Tube, DLR, London Overground, TfL Rail and National Rail stations
Ticket offices at London Overground, TfL Rail and National Rail stations
Taxis are also available throughout the city.
ACCESSIBILITY
If you have a disability and require assistance, please contact IAIA HQ (info@iaia.org | +1.701.297.7908) by 16 November 2018 to discuss your specific needs.
GENERAL INFORMATION
London is among the oldest of the world's great cities—its history spanning nearly two millennia—and one of the most cosmopolitan. By far Britain's largest metropolis, it is also the country's economic, transportation, and cultural center. London is situated in southeastern England, lying astride the River Thames some 50 miles (80 km) upstream from its estuary on the North Sea. Historically, London grew from three distinct centers: the walled settlement founded by the Romans on the banks of the Thames in the 1st century ce, today known as the City of London, "the Square Mile," or simply "the City"; facing it across the bridge on the lower gravels of the south bank, the suburb of Southwark; and a mile upstream, on a great southward bend of the river, the City of Westminster. The three settlements had distinct and complementary roles. London, "the City," developed as a center of trade, commerce, and banking. The key features of the City of London are: St. Paul's Cathedral; Guildhall; Museum of London; Barbican; Mansion House; financial district (including the Royal Exchange and the Bank of England).
TRAVEL INSURANCE
Delegates without travel or health insurance are personally liable for covering any medical and associated costs they incur. IAIA recommends that delegates purchase travel insurance and ensure that the policy covers all medical expenses for injury or illness, as well as theft of valuables, damage to baggage, and cancellations or interruptions to flight plans. More information on entering the UK can be found here.
TIPPING CUSTOMS
In Britain it is normal to tip taxi drivers and wait staff in restaurants from 10-15%. Many restaurants automatically add a service charge to the bill, so check before leaving a tip. It is not customary to leave a tip when buying a drink in a pub or bar.
CURRENCY
The currency throughout the UK is the Pound (£). Banks and ATM facilities (which are often known in the UK as Cashpoints or cash machines) are widely available throughout London. Note that some non-bank ATMs (such as those at convenience stores) charge an additional fixed fee for withdrawing money. Traveler's checks can be exchanged at most banks. Debit and credit cards are widely accepted in most shops, bars, restaurants, and tourist locations.
ELECTRICITY
The voltage in Britain is 220/240 AC, 50 Hz. Electrical plugs have three rectangular pins.