Premier Sponsor

Why Should You Attend IAIA14?
Download theWhy Should You Attend PDF
Where else can you gather to hear perspectives in impact assessment from 80+ nations – all in one place? 
IAIA14 is an opportunity not to be missed. Be prepared for some out-of-the-box thinking, applying solutions developed across the world to your little corner of it.  Because impact assessment is such a dynamic field, you are sure to learn something new at every IAIA conference.

97% of IAIA13 delegates would recommend future IAIA conferences to colleagues
---
Who participates in IAIA conferences?
One of the strengths of IAIA conferences is its diversity in participants from different sectors.  IAIA conferences draw people from consultancies, government, inter-governmental organizations, industry, universities, research institutes, donor agencies, development banks, and NGOs.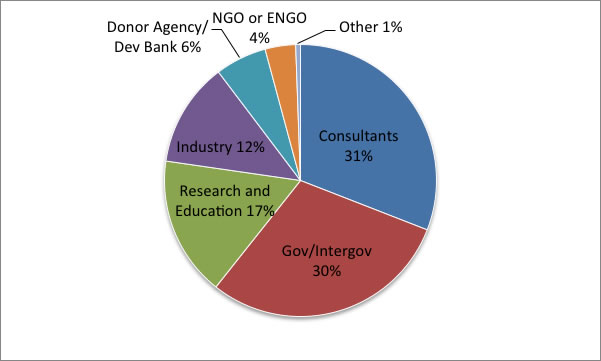 ---
Networking: expand and maintain contacts with your peers, clients, and those who conduct, evaluate and require impact assessments
Education: explore current best practice principles, recent tools and techniques
Options: choose from numerous and diverse training courses, theme forums, technical visits, and over 90 sessions ranging from interdisciplinary approaches to topic-specific workshops
Inspiration:  attend and participate in stimulating and thought-provoking discussions
Innovation:  learn about cutting-edge IA theory and practice from around the world
Dissemination:  present your work and receive international feedback
Enjoyment: participate in one or more of many social events in a unique and beautiful city
---

If you pay the non-member conference rate, you automatically receive one year of IAIA membership.  What does that include?
What did IAIA13 delegates say about last year's conference?
Here is what some delegates who attended IAIA's 2013 annual conference thought was the most valuable aspect of the conference for them and their work in impact assessment:
Experiencing a good fusion of academic enquiry, practitioner experience, and indigenous traditional knowledge.
Every session I went to had great value. It was great to see what is happening outside of my day-to-day work.
I was invigorated by the passion and commitment of practitioners.
As my first conference it was very motivational and I gained valuable experience presenting as well as learned a lot from attending many presentations.
New tools, new books and new contacts: a perfect combination for improving my work.
Excellent networking and opportunities for collaboration.
Show More Comments
Very wide and cross disciplinary; touched on inter-relationships between the various impact assessments.
Hearing about other aspects of impact assessments that we are not usually exposed to (SEAs, cumulative IAs, etc.).
Hearing the different approaches being used globally to address similar issues I'm facing in my own work.
Communication of key issues in my work areas and being able to present and discuss it with others who I wouldn't normally come into contact with in my field of work.
Meeting clients. I sometimes manage to negotiate new contracts at the IAIA conferences.
The opportunity to meet people that are working on cutting edge topics.
For me such a conference is a success if I get around 5 new ideas that I can apply or further elaborate. IAIA13 certainly fulfilled that objective.
Meeting a diversity of people interesting in different topics, but having impact assessment as a common base.
I normally don't work directly in the field of IA, but I found the scope of what is being done for IAs globally to be very interesting and worthwhile.
Opportunity to meet leading scholars in my field and to get diverse views on my research.
---
What makes IAIA conferences special?
Delegates who attended IAIA13 were asked what sets IAIA conferences apart from other conferences they attend.  Here is a sampling of their responses:
Its impartiality.
In a few words, I would say IAIA is a one stop shop. You get all questions answered in one place. It actually diversifies ones career.
It brings consultants, practitioners and scientists all together while most of the other environmental conferences participants are mostly researchers.
I think it is the focus - if you are interested in EA this is the place. It is always well run.
The variety of IA practitioners (environmental, social, gender, indigenous, human rights, etc.) who attend.
Very participatory. It is beneficial to all - for both beginners and veterans. Ample opportunity for networking.
The diverse crowd it draws, which is not just "environmental" but cuts across the inter-disciplinary areas of impact assessment, and includes people from industry, lender, government, consulting, and civil society perspectives.
Truly global representation and exchange of ideas.
Show More Comments
The participation of so many delegates from developing countries.
A good mix of academic and professional presentations and attendees.
It bridges the gap between environmental and social sciences on the one hand, and policy, regulations, and operations on the other. It emphasizes the connection between what we are doing to disintegrate the planet and ecosystems, and what we must do to maintain economic prosperity and societal progress.
Variety of topics and really new stuff--ecosystem services, human rights, FPIC.
It offers real and practical approaches to environmental related cases from practitioners all over the world with wide range of knowledge and experience.
The energy of the conference - people want to be there.
Puts lots of effort to interaction outside sessions. This is excellent!
The exchange of ideas is unparalleled.
That it is really specific to the impact assessment methodology and techniques. It is the only conference I've attended that addresses so specifically EA best practices.
It's the only international conference that focuses solely on IA.
The conference is oriented towards practitioners, not activists, and reflects that we are all trying to make a living out of this profession.
In my opinion, I think it's because of the various activities we can do in ONE conference. The technical visits, the receptions, banquet, dine outs, etc. And of course, because of the warmth of the crew who is responsible for the IAIA conference. Truly a good teamwork.
---